SNF Newsreader (preview)
Here's a preview of a new application I'm working on, currently called Simple 'N Friendly Newsreader.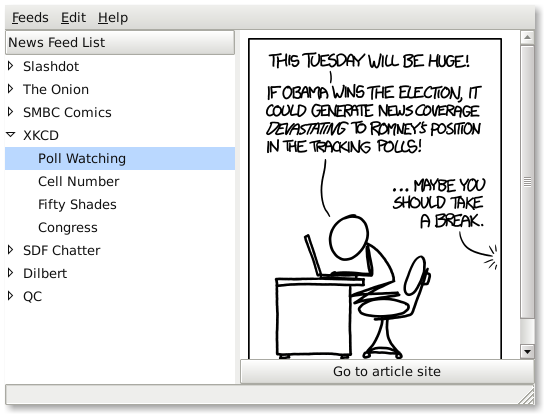 SNF Newsreader will be an application that will fetch your RSS feeds to read in a convenient manner. The feeds are listed on the left side, along with the customizable number of items which may be selected to read on the right side of the viewer. It will also be possilble to view the full page for the news item inside of the reader where the description will be displayed. A better description of the application will be provided when the application has come closer to being finished.
This application is provided as a preview of the interface and is -not- the complete program. Please do -not- submit bug reports, complaints of the application being too slow, consumes too much data, etc. as this application is not considered anywhere close to finished. Feedback will be accepted at a later date when the application is released for beta testing. For now, just enjoy what's here.
Download (snd-newsreader-desktop.tar.gz 7.0 kB) | List of Dependencies